Bachelor of Education in Early Childhood Education and Special Education
Curriculum Structure
Enquiries Information
Application & Admissions
Contact: Faculty of Education
[javascript protected email address]
Academic Matters
Contact: Dr Diana Lee (Programme Director)
[javascript protected email address]
Programme Pamphlet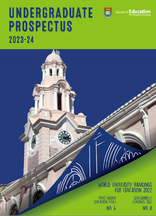 View and download
Candidates are required to complete courses totaling not fewer than 300 credits for the Bachelor of Education in Early Childhood Education and Special Education degree. These courses must comprise:
| Degree Components | Credit Units |
| --- | --- |
| Professsional Core in Early Childhood Education and Special Education (including 12 credits in Specialised Elective courses) | 246 |
| Language Enhancement courses | 18 |
| Common core courses | 36 |
| Total | 300 |
Below are some examples of the professional core courses included in the BEd(ECE&SE) programme:
Early Care and Education of Infants and Toddlers
Physical and Social-Emotional Development, Guidance and Counselling of Young Children
Supporting Children with Cognitive, Sensory and Physical Needs
Integrated Curriculum and Inclusive Pedagogy in Early Childhood Education
Assessment and Intervention in Early Childhood Settings
STEAM in Early Childhood Education
Young Children, Family and the Changing World
Planning, Management and Evaluation of Early Childhood Programmes
Professional Practicum
Introduction to Research Methods
Early Childhood Education and Special Education Project
The list of core courses can be viewed here.
Here are some examples of specialised elective courses*:
Supporting Children with Autistic Spectrum Disorder
Supporting Non-Native Chinese Speaking Children
Bilingualism in Young Children
Children and the Law
Child Health
Young Child and Technology
Creative and Expressive Arts and Movement
* Not all specialised elective courses will necessarily be offered every year.