BEd(ECE&SE) student awarded the Albert Young Foundation Limited Scholarship
Updated on March 23, 2022 (Wed)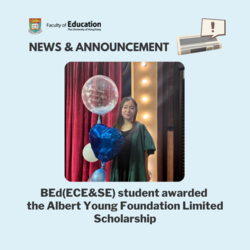 We are delighted to announce that Wendy Jian, our Bachelor of Education student in Early Childhood Education and Special Education [BEd(ECE&SE)], has been awarded the Albert Young Foundation Limited Scholarship because of her excellent academic performance and active commitment in voluntary service. The aim of the scholarship is to provide financial support to students with good academic standing and to encourage their involvement in community service.
Wendy has devoted herself to various community services since secondary school, with a focus on helping underprivileged children, and children with special education needs. Back in 2019, she served as a voluntary tutor in a service centre, leading a group of children to visit local historical sites and teaching them Hong Kong's history. For this she was awarded the Tsuen Wan District Youth Summer Outstanding Volunteer Service Award. This experience also inspired her to apply for the BEd(ECE&SE) programme, as she found that she enjoyed working with young children. Since entering HKU, she has participated in at least three voluntary projects related to teaching and assessing young children.
Wendy plans to use part of the scholarship to fund her participation in an overseas service trip to help needy children, when the situation allows. She wishes to learn more about different cultures through volunteering, and to visit attractions as well as other university campuses.
Our congratulations to Wendy. Keep up the good work!