"Powerful Pedagogy Post Pandemics" Webinar by Professor Gloria Ladson-Billings, University of Wisconsin-Madison, USA
Updated on October 24, 2022 (Mon)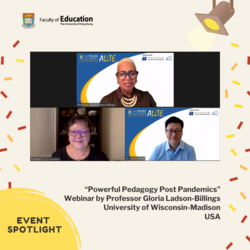 Sponsored by the Tin Ka Ping Foundation, the Distinguished Lecture of the Academy for Leadership in Teacher Education (ALiTE) International Webinar Series for Exemplary Scholarship was successfully held on October 11, 2022. This online lecture was delivered by Professor Gloria Ladson-Billings, Professor Emerita, School of Education, University of Wisconsin-Madison, Madison, Wisconsin, USA. The Webinar was well attended by around 240 participants, including university academic staff and students, school principals and teachers, researchers and government officials.
The Webinar started with warm welcoming remarks by Dr Lawrence Ng, Associate Dean (Outreach and Engagement), Faculty of Education, HKU. Professor Ladson-Billings then delivered an inspiring lecture, in which she discussed the limitations faced by educators when responding to large disparities among groups of students, and the opportunities which the COVID-19 pandemic presented to teachers.

The Webinar was followed by a fruitful Q&A session facilitated by Professor A. Lin Goodwin, Advisor of ALiTE and former Dean of the Faculty. Professor Ladson-Billings answered thought-provoking questions from the enthusiastic audience.

The video recording of this Webinar and the accompanying PowerPoint slides are now available on our website: https://web.edu.hku.hk/event/detail-page/alite-international-webinar-professor-ladson-billings.