Dr Diana Lee and students of the BEd(ECE&SE) Programme share teaching and learning experiences with the media
Updated on February 24, 2023 (Fri)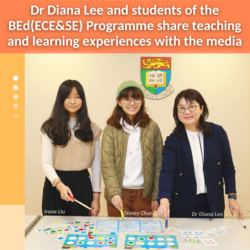 Dr Diana Lee, Senior Lecturer of the Faculty's Academic Unit of Teacher Education and Learning Leadership, and Programme Director of the Bachelor of Education in Early Childhood Education and Special Education [BEd(ECE&SE)] Programme, and two Year 4 students of the Programme, Irene Liu and Disney Chan, shared their teaching and learning experiences with the media on February 15, 2023.

First offered by HKU in 2019, the Programme is HKSAR's first University Grants Committee-funded full-time degree programme in early childhood education and special education. This Programme's first batch of students will graduate next year, catering to the increasing demand for professionals working with children with special educational needs (SEN). During their last summer holidays, four students acted as volunteer teachers in Romania and Turkey for six weeks.

Irene shared her teaching experience as a volunteer English teacher in Romania last summer. She was able to apply what she learnt from the Programme, and incorporated interactive activities in her lessons. Also, she created a teaching aid named "Happy Fishing", aiming to train children's attention, memory and self regulation skills. The teaching aid has been recognised by the education sector as useful teaching resources and is now sold to teaching organisations and staff.

Disney wrote and produced a song titled "Who Am I", hoping to encourage children to appreciate themselves and not to be bounded by stereotypes. She believes that music is an effective communication channel with children, while music therapy can help develop their motor skills, social and cognitive skills and help build their confidence and creativity.

Graduates of the Programme are eligible to register as qualified kindergarten teachers, child care workers, special child care workers and child care superrvisors, and meet the academic qualifications required to be kindergarten principals. Some of Irene and Disney's classmates are working part-time in non-profit organisations, and have a variety of children-related work experiences.