Bachelor of Education in Early Childhood Education and Special Education
Programme Overview and Aims
Enquiries Information
Application & Admissions
Contact: Faculty of Education
[javascript protected email address]
Academic Matters
Contact: Dr Diana Lee (Programme Director)
[javascript protected email address]
Programme Pamphlet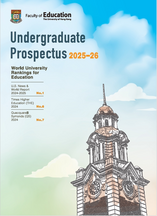 View and download

The BEd [Early Childhood Education and Special Education (ECE&SE)] Programme prepares students for dual certification as both early childhood teachers and teachers of children with special educational needs in early childhood (birth–6 years). It includes (i) engaging academic courses; (ii) supervised practicum placements in multiple early childhood settings; and (iii) independent research experiences to help students facilitate the development and learning of children from birth to six years. Students will be guided by faculty members who have extensive practical and research experience in local and international early childhood settings. They will be supported to gain the necessary knowledge, skills and attitudes to work in both integrated early childhood settings and special child care centres.
Graduates of the programme can:
be eligible to register as Qualified Kindergarten Teachers;

be eligible for registration as as Child Care Worker and Child Care Supervisor under the Child Care Services Regulations;

be considered as having acquired training on the One-year In-service Course in Special Child Care Work recognized by the Social Welfare Department;

meet the academic qualifications required as kindergarten principals.
Powerpoint file for admissions talk
(HKU Information Day for Undergraduate Admissions 2023)
Programme Features
The programme includes three Professional Practicum courses which provide students with the opportunity to apply theoretical knowledge to practice in child care centres, special child care centres and integrated kindergarten settings.

In the final year, students are required to complete an independent research project under the supervision of a Faculty mentor in a self-selected area of interest.
JUPAS Information Week 2023

-

Thematic Talk

Topic:
幼教準老師的挑戰與機遇
By Dr Diana Lee, Programme Director of BED(ECE&SE)
「非凡的學習之旅」短片系列 教育學士(幼兒教育及特殊教育)