Faculty students are on the 2023 International Literacy Association's 30 Under 30 list
Updated on January 26, 2023 (Thu)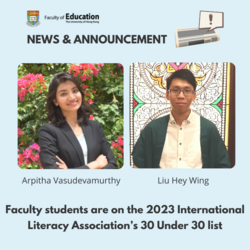 We are thrilled to announce that Ms Arpitha Vasudevamurthy and Mr Liu Hey Wing, current PhD student and MPhil student in the Faculty's Academic Unit of Human Communication, Development, and Information Sciences (CDIS), are on the 2023 International Literacy Association (ILA)'s 30 Under 30 list, which recognises the best and brightest emerging leaders in the literacy field from all over the world, including educators, researchers and advocates, who strive to achieve the mission of "literacy for every child, everywhere". It is a source of great pride that two out of the 30 honourees of this international programme are from the Faculty.
Arpitha has been helping children in India with reading and writing problems since she was a teenager. At the age of 16, she organised summer camps for preschool children. When she was in graduate school, she collaborated in a research project and demonstrated that learning and retention skills in poor readers are influenced by sleep-dependent memory consolidation. Arpitha thinks her own learning difficulty experiences during her childhood have not only helped her see the challenges to literacy acquisition among young children, but also enabled her to help them mitigate these challenges by building on their strengths. Having received this honour, she now feels empowered to follow her passion by reaching out to more students with learning difficulties and changing their perspectives on the challenges of attaining literacy skills.
Hey Wing is one of the first researchers to use machine learning techniques to identify Chinese children with developmental dyslexia. In his research, he used his machine-trained models to analyse Chinese characters written by over 1,000 children with and without dyslexia, and accurately predicted the status of dyslexia for 80% of them. Hey Wing is currently developing a mobile game platform to help children with developmental dyslexia play and learn at the same time. He hopes to help children, particularly those who might not have the resources required to help improve their literacy skills, to enjoy their childhood and study.
Both Arpitha and Hey Wing would like to express their gratitude to Professor Shelley Tong from the Faculty's Academic Unit of CDIS, for her support and for being their role model in their journey of research and advocacy for literacy development.
The ILA is a professional membership organisation of over 300,000 literacy educators, researchers and experts across 128 countries, with a mission of connecting research and practice to continuously improve the quality of literacy instruction across the globe. Its 30 Under 30 list is released biennially and nominations are accepted on a rolling basis from all over the world. Despite the strong competition, Arpitha and Hey Wing have been listed among this year's 30 honourees.
Read their full stories here: Hey Wing's story and Arpitha's story
Please join us in congratulating Arpitha and Hey Wing on their efforts and achievement in literacy development!