Workplace visit for the mentees of the Education Mentorship Programme
Updated on August 04, 2022 (Thu)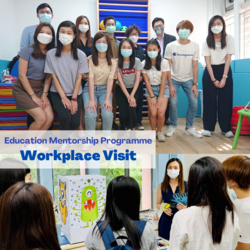 A face-to face workplace visit to Caritas On-site Pre-school Rehabilitation Services (OPRS) - Team 2 was held on July 29, 2022 for the mentees of the Faculty's Education Mentorship Programme (Programme) who are studying the Bachelor of Science in Speech and Hearing Sciences programme.
The visit was kick-started with a warm welcome by Mr YT Choi, Social Work Supervisor of Caritas OPRS - Team 2. Dr Lawrence Ng, Associate Dean (Outreach and Engagement) of the Faculty, expressed sincere gratitude for the precious opportunity offered by Caritas. Then a fruitful sharing session was conducted by the three speakers from Caritas, Mr YT Choi, Mr Daniel Cheng, Senior Speech Therapist and a mentor on the Programme, and Ms Nichole Chuang, Speech Therapist and an HKU alumna. Their sharing provided our mentees with an in-depth understanding of the roles and various aspects of being a speech therapist as well as the services provided by Caritas OPRS. Our mentees enthusiastically interacted and exchanged their views with the professionals during the session. Afterwards our mentees were thrilled to have the chance to explore other areas in the centre and had hands-on experience of some interesting and handmade teaching materials for children.
In addition, Mr Ikey Cheung, Speech Therapist and another mentor of the Programme introduced to our mentees a project on "Whole School Approach to Providing Tiered Support for Students with Autism Spectrum Disorders (ASD)", which aims at improving the performance of junior primary to senior secondary school students with ASD in learning, social and emotional adaptations.
We would like to thank all the speakers again for their precious time in offering us this meaningful visit. The visit provided our mentees with valuable exposure to the actual workplace environment and inspiring insights from the experienced practitioners.