Education Mentorship Programme 2022-23 Inauguration Ceremony
Updated on March 14, 2023 (Tue)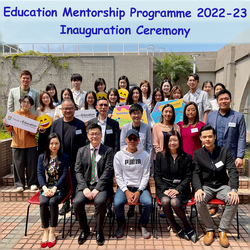 The Inauguration Ceremony of the Education Mentorship Programme 2022-23 was held on March 11, 2023 with passionate mentors, mentees and guests attending. The event marked the official commencement of the Programme this year. Given the support of the mentors from a variety of professional fields including teaching, education administration, speech therapy, early childhood education and information technology in education, our mentees should have the opportunity to gain exposure to professional development and learn from their assigned mentors.
The Ceremony started with warm welcoming remarks by Faculty members, Dr Lawrence Ng, Associate Dean (Outreach and Engagement), and Dr Elizabeth Loh, Assistant Dean (Knowledge Exchange). Dr Ng and Dr Loh expressed gratitude to all the mentors for sparing their time and support to the mentees, and underlined their belief in the importance of mentoring in providing pathways for those entering professional fields, along which new experiences and deep learning can be acquired. Mr Yick Tak Ming, Luke, President of the Hong Kong University Education Alumni Association also thanked the participants for joining the Programme, emphasising that mentorship is a critical component in mentees' professional development.
Afterwards, the mentors were introduced to all the participants. In groups, they participated in ice-breaking games to learn more about one another. They enjoyed themselves a lot and were glad to make new friends on the joyful occasion.
Dr Leung Sui Man, Anita and Mr Hon Sze Ping, Steven, have been mentors of the Programme for several years, and they treasured the opportunities of guiding others. At the event, they shared their mentorship experiences and advice with the mentees. At the end of the Ceremony, all the participants had the chance to mingle with others while enjoying light refreshments.
We hope both our mentees and mentors will benefit from this Programme and have meaningful and enlightening experiences!