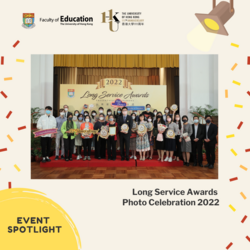 The Long Service Awards Photo Celebration 2022 was held on June 9, 2022. The President and Vice-Chancellor Professor Xiang Zhang thanked staff members for their dedication, commitment and loyalty to the University. Ten Faculty colleagues were honoured.
We would like to express our heartfelt gratitude to the following colleagues for their dedication and contribution to the Faculty/University over the years:
35 years of service:
Professor Nancy Law, Professor, Academic Unit of Teacher Education and Learning Leadership (TELL)
25 years of service:
Dr Yuen Man Tak, Associate Professor, TELL
Professor Zhang Li-fang, Professor, TELL
15 years of service:
Dr Eva Chan, Senior Lecturer, TELL
Dr Cheung Wai Ming, Associate Professor and Head, Academic Unit of Social Contexts and Policies of Education (SCAPE)
Ms Karen Ho, Executive Officer, Human Resources Team
Ms Erica Lam, Executive Assistant, SCAPE
Dr Lawrence Ng, Associate Professor, Academic Unit of Human Communication, Development, and Information Sciences (CDIS)
Mr Eric Tsang, Senior Technical Officer, Technology and Infrastructure Development Office
Professor Maggie Wang, Professor, CDIS
Warmest congratulations and a big thank you to everyone!