HKU Faculty of Education hosts "Hong Kong Education and Future Learning" Knowledge Fair – Let's Make an Impact Together
Updated on March 13, 2023 (Mon)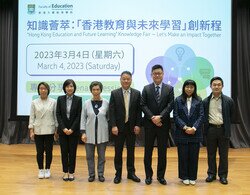 The Faculty hosted the "Hong Kong Education and Future Learning" Knowledge Fair – Let's Make an Impact Together for the first time on March 4, 2023 (Saturday). This whole-day event included plenary sessions and interactive workshops, featuring the themes of English and Chinese language learning (as both 1st and 2nd language), organisational learning for innovation, and digital literacy.

After Professor Yang Rui, Dean of the Faculty, gave an inspiring opening speech on what knowledge is and the social obligations of a globally-acclaimed faculty of education, the plenary sessions were hosted by Faculty teachers including Dr Lo Yuen Yi, Dr Cheung Wai Ming, Dr Tai Chung Pui, Dr Lin Chin-Hsi, Dr Jane Mok and Professor Nancy Law. During the plenary sessions, some local secondary and primary school principals and teachers responded with constructive opinions. The plenary sessions concluded with a panel discussion involving all the speakers, moderated by Dr Lawrence Ng.

In the afternoon, more Faculty members, including Dr Arthur Lee, Ms Elaine Wong and Dr Stephanie Chan joined the plenary session speakers to conduct five interactive workshops. While some participants were engaged in group discussions and sharing based on their experiences, others were involved in developing their own picture books, learning from useful online resources developed by the Faculty members and interesting learning games.
Over 100 people participated in the Fair, including representatives from the Education Bureau of the HKSAR Government, principals and teachers from local secondary and primary schools, along with other stakeholders in the community. The Knowledge Fair was a precious opportunity for participants to share the findings and implications of the Faculty members' research findings and to exchange their insightful views. While sharing research findings with community stakeholders, the event was filled with positivity and laughter.

To learn more about the speakers' presentations and key research findings, please visit https://web.edu.hku.hk/press/press-release-knowledge-fair for the press release and relevant materials.