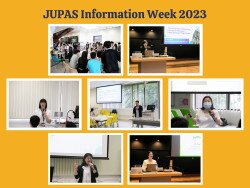 A series of activities including thematic talks, student sharing and a campus tour were organised by the Faculty of Education, The University of Hong Kong on May 24, 2023 during the JUPAS Information Week 2023.
In addition to exhibition booths, where prospective students could obtain information about our range of programmes, five thematic talks were organised to provide participants with a deeper insight into those programmes. Each talk gave an in-depth introduction to the programme, including the latest programme information, and also provided admissions tips and information about career prospects. As well as opportunities for face-to-face communication and interaction with the Faculty's teachers, prospective students were able to engage with our current students, who shared their learning experience at the Faculty and their campus life at HKU with the participants, providing insightful information to help them plan their future studies.
After the thematic talks, a campus tour was organised. Our current students guided the tour and took participants to iconic sites on the HKU campus. Through the campus tour, the participants learnt more about the learning environment and campus life at HKU.
You can now watch the video recordings of the thematic talks and review the accompanying PowerPoint slides on our website: https://web.edu.hku.hk/jupasinfoweek.