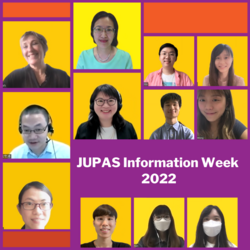 Five online sessions were hosted by our Faculty on May 25, 2022 during the JUPAS Information Week. Some thematic talks were organised for participants to get a deeper understanding of our programmes, a taste of what it would be like studying these programmes and the latest admissions tips. Some of our current students also shared their valuable learning experiences in the Faculty. The participants had opportunities to interact with our teachers and students during the live Q&A sessions where insightful information was provided to help them plan their future studies.
You can now watch the video recording of the thematic talks and review the accompanying PowerPoint slides on our website: https://web.edu.hku.hk/jupasinfoweek.
To browse further information on our undergraduate programmes, you are most welcome to visit https://web.edu.hku.hk/programme/undergraduate.