"How to Develop Your Career in Speech Therapy?" Sharing Session
Updated on February 24, 2022 (Thu)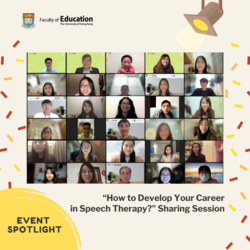 This sharing session took place via ZOOM on February 18, 2022. Around 60 mentors, mentees and students from the Bachelor of Science in Speech and Hearing Sciences programme took part.
To start off the event, Dr Lawrence Ng, Associate Dean (Outreach and Engagement) warmly greeted all the participants. We were thrilled to have two mentors from our Education Mentorship Programme sharing their insights into the speech therapy profession. Ms Wing Lee, a Senior Speech Therapist, discussed interview skills and common interview questions for speech therapists. Mr Ikey Cheung, Director of a social enterprise, talked about other career opportunities that might be available, and how students could prepare themselves. Both speakers delivered their informative presentations in an interactive and humorous way, which the audience greatly enjoyed.
A Q&A session followed, where Dr Ng, the two speakers and students actively exchanged ideas and opinions on the topic. The speakers also gave valuable advice and useful suggestions, and showed warm support for our students.
We thank everyone for their participation, and we hope that the event provided our students with timely and helpful tips and guidance before they enter the workplace!