HKU Information Day 2023 for Undergraduate Admissions
Updated on October 28, 2023 (Sat)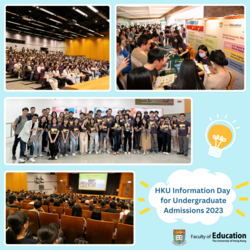 The HKU Information Day for Undergraduate Admissions 2023 (IDay) successfully took place on October 28, 2023 on the HKU campus. As an annual flagship event for the Faculty of Education, IDay serves as a platform for local secondary school students and associate degree students to engage with the Faculty and obtain the latest undergraduate admissions information. This year, a diverse range of activities were arranged, including admissions talks, exhibition booths, educational games, and student-sharing sessions. Visitors had the opportunity to obtain comprehensive information about our undergraduate programmes and interact with our teachers, programme staff, and current students, gaining valuable insights into their desired fields of study.
The event was a great success, with our programme booths attracting a large number of visitors throughout the day, and our admissions talks being attended by more than 1,600 participants. We look forward to welcoming a new cohort of talented and enthusiastic students to our Faculty.
For further information on our undergraduate programmes, please visit
https://web.edu.hku.hk/programme/undergraduate.