Dr Gary Wong wins the Faculty Knowledge Exchange (KE) Award 2022
Updated on July 07, 2022 (Thu)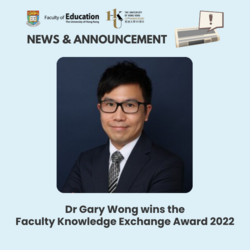 We are pleased to announce that Dr Gary Wong, Assistant Professor in the Faculty's Academic Unit of Human Communication, Development, and Information Sciences has won the Faculty KE Award 2022.
The title of the winning project is "Coding for Community Project: Building a diversified coding community in Hong Kong secondary education". Dr Wong's research project contributes to a paradigm shift from classroom-based pedagogical practice for computational thinking education towards community-based design of computational learning that emphasises the culture of collaborative knowledge building among students. Based on his research, Dr Wong has pioneered a new two-year curriculum to replace the current Information and Communication Technology Curriculum in junior secondary school, focusing on computational thinking and engaging students in community service. This newly-invented pedagogical practice allows students to learn coding skills in classrooms and develop mobile apps with their mentors to help people in need in the community. It supports students' computational collaborative learning and strengthens their computational thinking competences and psycho-social wellbeing. Even within the limitations imposed by the COVID-19 epidemic and schooling disruption, this research has educated thousands of students, teachers, and mentors through knowledge exchange activities.
The Faculty KE Awards were introduced in 2011 to recognise the outstanding KE accomplishment within each Faculty that has had demonstrable economic, social or cultural impacts that benefit the community, business/industry, or partner organisations. The selection criteria include the quality of the underpinning research and the impact of the project (with supporting evidence), the effectiveness of the engagement process with the community or partner organisations, and a demonstration of cross- and multi-disciplinary impacts.
Our hearty congratulations to Dr Wong for his achievement in KE!