Education student receives the Innovation and Technology Scholarship 2023
Updated on June 23, 2023 (Fri)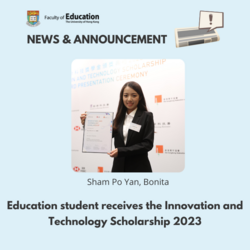 We are very excited to share with you a piece of good news – Sham Po Yan, Bonita, a Year 4 student from the Bachelor of Science in Speech and Hearing Sciences programme, has received the Innovation and Technology Scholarship 2023.
Bonita has been making great efforts to help underprivileged children. She launched an online platform for storytelling to children, and set up a voluntary tutoring programme during the fifth wave of the COVID-19 pandemic to help local students from low-income families to study and to prepare for their examinations. Bonita plans to conduct research on virtual reality in Australia and to bring back what she learns to Hong Kong.
Bonita said that she is very honoured to receive the scholarship and excited about the opportunities ahead. The scholarship will allow her to widen her international exposure, and she believes that this opportunity will help her to grow both personally and professionally. Bonita would also like to thank Dr Anthony Kong, Associate Professor of the Faculty's Academic Unit of Human Communication, Development, and Information Sciences, who has been supporting and guiding her throughout the process.
The Innovation and Technology Scholarship was launched in 2011. It aims to encourage and nurture outstanding students to contribute to the Innovation and Technology industry. Undergraduate students who study science, engineering, and medicine subjects receive a scholarship capped at HK$150,000 each.
We are so proud of you, Bonita! Congratulations!