E-Inclusion: HKU Speech, Language and Reading Lab study reveals specific online learning challenges and facilitators experienced by students with special educational needs (SEN) during the pandemic
Updated on February 13, 2023 (Mon)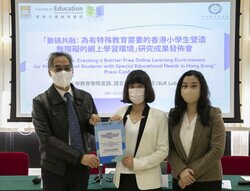 A press conference entitled "Creating a Barrier-Free Online Learning Environment for Primary School Students with Special Educational Needs in Hong Kong", was held on February 9, 2023.

The conference reported the findings of a study led by Professor Shelley Tong, covering a) the specific challenges faced by different types of SEN students in online learning; b) the strategies which the government, schools, teachers and parents can employ to enhance the effectiveness of online learning; and c) how to refine post-pandemic online and offline learning experiences. During the conference, Professor Tong's research team also introduced two freely accessible assessment tools, targeting the measurement of attitudes towards online learning and its effectiveness, which could provide future directions for education.

After Professor Tong disseminated the research findings, two representatives from the Equal Opportunities Commission shared their observations based on their work and on overseas experiences, and also provided recommendations for supporting SEN students, especially with online learning.

The participating media representatives showed great interest in the research studies and raised further in-depth questions about the specific difficulties faced by various types of SEN students, and recommendations for these students and their families. Professor Tong provided detailed explanations in response to the questions, and shared information about the Integrated Dyslexic Interface Design, a useful online resource designed for SEN students by the Speech, Language and Reading Lab of the Faculty.

For more details about the Speech, Language and Reading Lab, please visit https://slrlab.edu.hku.hk/. To view the e-version of the press release and download relevant materials, please visit https://web.edu.hku.hk/press/press-release-e-inclusion.