Dr Anthony Kong receives Fellowship in the 2022 American Speech-Language-Hearing Association (ASHA) Awards
Updated on July 26, 2022 (Tue)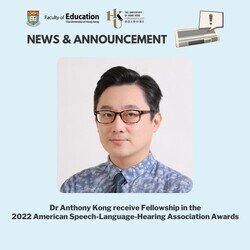 We are pleased to share the news that Dr Anthony Kong, Associate Professor in the Faculty's Academic Unit of Human Communication, Development, and Information Sciences, has been awarded "Fellowship of the Association" in the 2022 ASHA Awards.
Fellowship is one of the highest honours ASHA bestows. To be awarded a Fellowship, the nominee must have made outstanding contributions to the discipline of communication sciences and disorders. The term "outstanding" implies that the nominee must truly stand out among one's peers, with contributions that are significant and would be so regarded within and beyond one's community or state. While there are thousands of members who fulfill their professional responsibilities competently, only a small percentage have, by virtue of the quality and amount of their contributions, distinguished themselves sufficiently to warrant recognition.
ASHA is the national professional, scientific, and credentialing association for 223,000 members and affiliates who are audiologists; speech-language pathologists; speech, language, and hearing scientists; audiology and speech-language pathology support personnel; and students.
For details of the awards, please visit https://www.asha.org/about/awards/2022-awards-recipients/.
Many congratulations to Dr Kong!