"Leading in Difficult Times – Revisiting Moral Purpose" by Professor Alma Harris, Swansea University, UK
Updated on November 19, 2021 (Fri)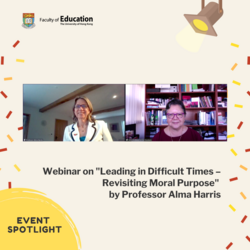 The Webinar entitled "Leading in Difficult Times – Revisiting Moral Purpose", part of the Academy for Leadership in Teacher Education (ALiTE) International Webinar Series for Exemplary Scholarship, was successfully held on November 15, 2021. It was delivered by Professor Alma Harris, Deputy Head of the School of Education, Swansea University, United Kingdom. The Webinar was well-attended by more than 150 participants, including university academic staff and students, school principals and teachers, and researchers.
A warm welcome was expressed by Professor A. Lin Goodwin, Dean of HKU's Faculty of Education, at the beginning of the Webinar. Professor Harris was then invited to deliver the lecture. By drawing upon contemporary, international research evidence, Professor Harris discussed the challenges of leading schools in the most challenging of circumstances, and highlighted some of the ways in which leadership practices, at all levels, had changed in response to the pandemic.
The Webinar was followed by a fruitful discussion between Professor Harris and Professor Goodwin. They also had meaningful interactions with the audience.
The video recording of this Webinar and the accompanying PowerPoint slides are now available on our website.