"Making Learning Visible: The Sequel" Lecture by Professor John Hattie, Laureate Professor Emeritus, Melbourne Graduate School of Education, The University of Melbourne, Australia
Updated on May 25, 2023 (Thu)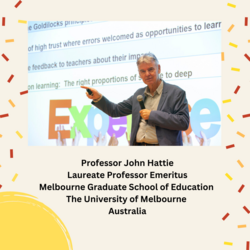 "Making Learning Visible: The Sequel" Lecture by Professor John Hattie, Laureate Professor Emeritus, Melbourne Graduate School of Education, The University of Melbourne, Australia
The captioned lecture, part of the Academy for Leadership in Teacher Education (ALiTE) International Lecture Series for Exemplary Scholarship, was successfully held on May 10, 2023.
This face-to-face lecture was delivered by Professor John Hattie, Laureate Professor Emeritus, Melbourne Graduate School of Education, The University of Melbourne, Australia. More than 170 University academic staff and students, school teachers and principals, researchers and government officials joined the lecture.
In the lecture, Professor Hattie discussed the importance of educator expertise, evaluative thinking, intentionally aligning teaching with the depth of complexity within lessons, and ensuring schools are seen by students as inviting, safe, and fair places, where they have the space to make errors, learn with their peers, and where they have great teachers by design not by chance.
The intellectually rewarding lecture was followed by a fruitful Q&A session facilitated by Dr Lo Yuen Yi, the Faculty's Associate Dean (Learning and Teaching). Professor Hattie provided inspiring replies to questions from the passionate and proactive audience.
The video recording of this lecture and the accompanying PowerPoint slides are now available on our website: https://web.edu.hku.hk/event/detail-page/alite-international-webinar-prof-john-hattie