"Expanding Opportunities for Every Child to Learn Well. Can Local Experiences from the Pandemic in India Feed into Global Lessons?" Webinar by Dr Rukmini Banerji, CEO of Pratham Education Foundation
Updated on April 03, 2023 (Mon)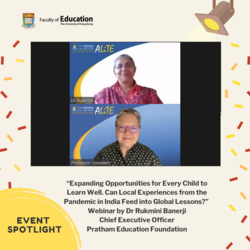 The captioned Webinar, part of the Academy for Leadership in Teacher Education (ALiTE) International Webinar Series for Exemplary Scholarship, was successfully held on March 23, 2023.
This online lecture was delivered by Dr Rukmini Banerji, the Chief Executive Officer of Pratham Education Foundation (Pratham). University academic staff and students, school teachers and principals, researchers and government officials joined the Webinar.
Dr Rukmini Banerji delivered a meaningful and intellectually rewarding lecture, in which she introduced the experiences of schools and students in India during the COVID-19 pandemic, the activities and contribution of Pratham during the pandemic and more recently, and further explained how all of those experiences could feed into global lessons.
The Webinar was followed by a fruitful Q&A session facilitated by Professor A. Lin Goodwin, Advisor of ALiTE and former Dean of the Faculty. Dr Rukmini Banerji provided inspiring replies to questions from the passionate and proactive audience, and Professor Goodwin responded based on her experiences.
The video recording of this Webinar and the accompanying PowerPoint slides are now available on our website: https://web.edu.hku.hk/event/detail-page/alite-international-webinar-dr-rukmini-banerji