Webinar: Interpretations of 'research', 'researchers' and 'research excellence' in international research assessment systems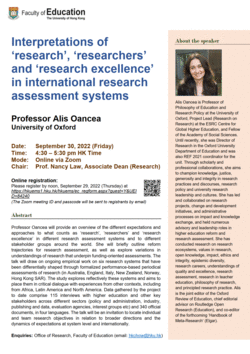 Interpretations of 'research', 'researchers' and 'research excellence' in international research assessment systems

Date: September 30, 2022 (Friday)
Time: 16:30 - 17:30 HK Time
Chair: Professor Nancy Law, Associate Dean (Research)

Online registration: Please register by noon, September 29, 2022 (Thursday) at:
https://hkuems1.hku.hk/hkuems/ec_regform.aspx?guest=Y&UEID=84240
(The Zoom meeting ID and passcode will be sent to registrants by email)

Abstract:
Professor Oancea will provide an overview of the different expectations and approaches to what counts as 'research', 'researchers' and 'research excellence' in different research assessment systems and to different stakeholder groups around the world. She will briefly outline reform trajectories for research assessment, as well as explore variations in understandings of research that underpin funding-oriented assessments. The talk will draw on ongoing empirical work on six research systems that have been differentially shaped through formalized performance-based periodical assessments of research (in Australia, England, Italy, New Zealand, Norway, Hong Kong SAR). The study explores reflectively these systems and aims to place them in critical dialogue with experiences from other contexts, including from Africa, Latin America and North America. Data gathered by the project to date comprise 115 interviews with higher education and other key stakeholders across different sectors (policy and administration, industry, publishing and data, evaluation agencies, interest groups etc) and 340 official documents, in four languages. The talk will be an invitation to locate individual and team research objectives in relation to broader directions and the dynamics of expectations at system level and internationally.

About the speaker:
Alis Oancea is Professor of Philosophy of Education and Research Policy at the University of Oxford, Project Lead (Research on Research) at the ESRC Centre for Global Higher Education, and Fellow of the Academy of Social Sciences. Until recently, she was Director of Research in the Oxford University Department of Education and was also REF 2021 coordinator for the unit. Through scholarly and professional collaborations, she aims to champion knowledge, justice, generosity and integrity in research practices and discourses, research policy and university research leadership and cultures. She has led and collaborated on research projects, change and development initiatives, and administrative processes on impact and knowledge exchange, and held numerous advisory and leadership roles in higher education reform and research assessment. She has conducted research on research ecosystems, values in research, open knowledge, impact, ethics and integrity, epistemic diversity, research careers, understandings of quality and excellence, research assessment, research in teacher education, philosophy of research, and principled research practice. Alis is the joint editor of the Oxford Review of Education, chief editorial advisor on Routledge Open Research (Education), and co-editor of the forthcoming 'Handbook of Meta-Research' (Elgar).

Enquiries: Office of Research, Faculty of Education (email: hkchow@hku.hk)