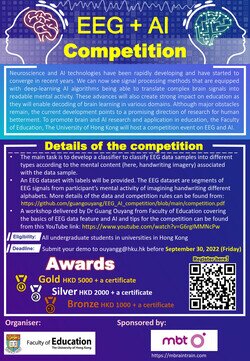 To further promote students' learning of EEG and AI technologies and applying them to decode complex cognitive and learning activities, a competition of AI algorithm development is hosted.
Details of the competition:
• The main task is to develop a classifier to classify EEG data samples into different types according to the mental content (here, handwriting imagery) associated with the data sample.
• An EEG dataset with labels will be provided. The EEG dataset are segments of EEG signals from participant's mental activity of imagining handwriting different alphabets. More details of the data and competition rules can be found from: https://github.com/guangouyang/EEG_AI_competition/blob/main/competition.pdf
• A workshop delivered by Dr Guang Ouyang, Assistant Professor, Academic Unit of Human Communication, Development, and Information Sciences, Faculty of Education covering the basics of EEG data feature and AI and tips for the competition can be found from this YouTube link: https://www.youtube.com/watch?v=G6rgIMMNcPw
Eligibility:
All undergraduate students in universities in Hong Kong
Submission deadline:
Submit your demo to ouyangg@hku.hk before September 30, 2022 (Friday)
Registration:https://docs.google.com/forms/d/e/1FAIpQLSfienHYNoOqRIUAX12Xgug7fAALVH7Xxv1me_bmlj8KxZdxZw/viewform
For enquiries, please write to Dr Guang Ouyang by email (ouyangg@hku.hk).