Seminar: Narrative Methods and Ecological Perspectives in Language Learning Research
Room 406, Meng Wah Complex, HKU and Online via Zoom (Hybrid mode)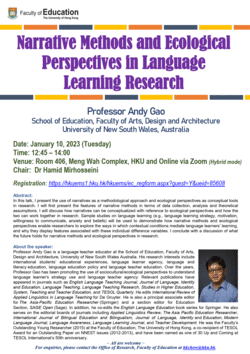 Narrative Methods and Ecological Perspectives in Language Learning Research

Professor Andy Gao
School of Education, Faculty of Arts, Design and Architecture
University of New South Wales, Australia

Date: January 10, 2023 (Tuesday)
Time: 12:45 – 14:00
Venue: Room 406, Meng Wah Complex, HKU and Online via Zoom (Hybrid mode)
Chair: Chair: Dr Hamid Mirhosseini
Registration:https://hkuems1.hku.hk/hkuems/ec_regform.aspx?guest=Y&ueid=85608

Abstract:
In this talk, I present the use of narratives as a methodological approach and ecological perspectives as conceptual tools in research. I will first present the featuresof narrative methods in terms of data collection, analysis and theoretical assumptions. I will discuss how narratives can be conceptualized with reference to ecological perspectives and how the two can work together in research. Sample studies on language learning (e.g., language learning strategy, motivation, willingness to communicate, anxiety and beliefs) will be used to demonstrate how narrative methods and ecological perspectives enable researchers to explore the ways in which contextual conditions mediate language learners' learning, and why they display features associated with these individual difference variables. I conclude with a discussion of what the future holds for narrative methods and ecological perspectives in research.

About the speaker:
Professor Andy Gao is a language teacher educator at the School of Education, Faculty of Arts, Design and Architecture, University of New South Wales Australia. His research interests include international students' educational experiences, language learner agency, language and literacy education, language education policy and language teacher education. Over the years, Professor Gao has been promoting the use of sociocultural/ecological perspectives to understand language learner's strategy use and language teacher agency. Relevant publications have appeared in journals such as English Language Teaching Journal, Journal of Language, Identity and Education, Language Teaching, Language Teaching Research, Studies in Higher Education, System, Teaching and Teacher Education, and TESOL Quarterly. He edits International Review of Applied Linguistics in Language Teaching for De Gruyter. He is also a principal associate editor for The Asia-Pacific Education Researcher (Springer) and a section editor for Education Section, SAGE Open (Sage). In addition, he co-edits the English Language Education book series for Springer. He also serves on the editorial boards of journals including Applied Linguistics Review, The Asia Pacific Education Researcher, International Journal of Bilingual Education and Bilingualism, Journal of Language, Identity and Education, Modern Language Journal, Language Awareness, Language Learning Journal, and Teacher Development. He was the Faculty's Outstanding Young Researcher (2015) at the Faculty of Education, The University of Hong Kong, a co-recipient of TESOL Award for an Outstanding Paper on NNEST issues (2012-2013), and have been named as one of 30 Up and Coming at TESOL International's 50th anniversary.

~ All are welcome ~
For enquiries,please contact the Office of Research, Faculty of Education at hkchow@hku.hk.