Online Workshop: Fostering Apt Epistemic Performance in a "Post-Truth" World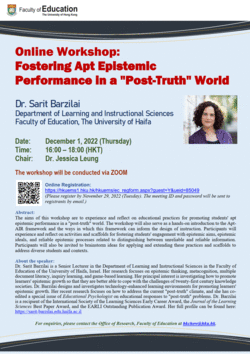 Online Workshop:
Fostering Apt Epistemic Performance in a "Post-Truth" World


Dr. Sarit Barzilai
Department of Learning and Instructional Sciences
Faculty of Education, The University of Haifa

Date: December 1, 2022 (Thursday)
Time: 16:00 – 18:00 (HKT)
Chair: Dr. Jessica Leung

The workshop will be conducted via ZOOM
Online Registration: https://hkuems1.hku.hk/hkuems/ec_regform.aspx?guest=Y&ueid=85049

(Please register by November 29, 2022 (Tuesday). The meeting ID and password will be sent to registrants by email.)

Abstract:
The aims of this workshop are to experience and reflect on educational practices for promoting students' apt epistemic performance in a "post-truth" world. The workshop will also serve as a hands-on introduction to the Apt-AIR framework and the ways in which this framework can inform the design of instruction. Participants will experience and reflect on activities and scaffolds for fostering students' engagement with epistemic aims, epistemic ideals, and reliable epistemic processes related to distinguishing between unreliable and reliable information. Participants will also be invited to brainstorm ideas for applying and extending these practices and scaffolds to address diverse students and contexts.

About the speaker:
Dr. Sarit Barzilai is a Senior Lecturer in the Department of Learning and Instructional Sciences in the Faculty of Education of the University of Haifa, Israel. Her research focuses on epistemic thinking, metacognition, multiple document literacy, inquiry learning, and game-based learning. Her principal interest is investigating how to promote learners' epistemic growth so that they are better able to cope with the challenges of twenty-first century knowledge societies. Dr. Barzilai designs and investigates technology-enhanced learning environments for promoting learners' epistemic growth. Her recent research focuses on how to address the current "post-truth" climate, and she has co-edited a special issue of Educational Psychologist on educational responses to "post-truth" problems. Dr. Barzilai is a recipient of the International Society of the Learning Sciences Early Career Award, the Journal of the Learning Sciences Best Paper Award, and the EARLI Outstanding Publication Award. Her full profile can be found here: https://sarit-barzilai.edu.haifa.ac.il

For enquiries, please contact the Office of Research, Faculty of Education at hkchow@hku.hk.