HKU Faculty of Education and Shenzhen Nanshan District Education Bureau sign a Memorandum of Understanding to enhance educational exchanges
Updated on October 25, 2023 (Wed)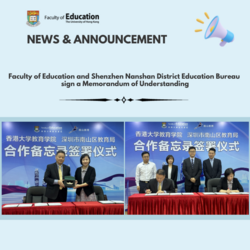 The Faculty of Education (the Faculty) at The University of Hong Kong (HKU) and the Shenzhen Nanshan District Education Bureau (the Bureau) have officially established a partnership through the signing of a Memorandum of Understanding (MOU) on October 25, 2023 in Shenzhen. The signing ceremony, officiated by Professor Yang Rui, Dean of the Faculty and Ms Yang Jun, Secretary of the Shenzhen Nanshan District Education Bureau, marked an important milestone in strengthening educational exchanges between the two parties.
With the aim of enhancing regional educational developments, the MOU sets the stage for facilitating the sharing of knowledge, expertise, and best practices through initiatives such as joint teacher training programmes and exchange activities. The collaboration will enrich the learning and teaching experiences of students and educators, and enhance educational standards in Hong Kong and the Nanshan District of Shenzhen.
Ms Yang Jun emphasised the significance of this partnership, which not only fosters cooperation in the field of education but also serves as a crucial measure for Nanshan District to promote high-quality external exchanges and collaboration. She expected that the partnership with HKU would provide teachers in the Nanshan District with an exceptional professional development platform to enrich their skills and knowledge.
Professor Yang Rui expressed that the partnership would help leverage the respective strengths of both parties, marking a new chapter in the integrated development of education in the Greater Bay Area. It is expected that the collaboration will cultivate cutting-edge educational research and innovative teaching practices that go beyond international standards and ultimately create a global impact.
The partnership between the Faculty of Education, HKU and the Shenzhen Nanshan District Education Bureau paves the way for achieving educational excellence. With a shared dedication to innovation and a collective vision for creating positive transformations, both parties are excited to embark on this collaborative journey and make a lasting impact in the field of education.