Education Mentorship Programme 2022-23: Sharing Session on "How to prepare for a teacher interview"
Updated on October 11, 2023 (Wed)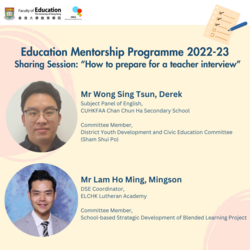 The Faculty of Education and the Hong Kong University Education Alumni Association (HKUEdAA) successfully co-organised a sharing session entitled "How to prepare for a teacher interview" under the Education Mentorship Programme on October 11, 2023. The event aims to empower aspiring educators with essential interview skills and inspire them to strive for excellence in their teaching careers. About 50 students participated in the session.
The event commenced with a welcoming remark by Dr Lawrence Ng, Associate Dean (Outreach and Engagement) of the Faculty of Education. Dr Ng emphasised the importance of effective interview preparation and expressed gratitude to Mr Mingson Lam and Mr Derek Wong, two professional and experienced educators from the HKUEdAA, for sharing their valuable experiences with the students.
During the session, Mr Lam and Mr Wong introduced the trend of the education industry in Hong Kong and provided practical tips on mastering effective interview preparation. They stressed the significance of being well-prepared for interview questions, demonstrating knowledge of current educational trends, and showcasing a growth mindset.
The participants actively engaged in interactive discussions and eagerly sought advice from the speakers. The sharing session not only provided a valuable platform for students to learn from experienced professionals but also enabled them to gain valuable insights and refine their interview preparation strategies, which will contribute to their future teaching careers.