BEd(ECE&SE) students visit the Affiliated School of JNU for Hong Kong and Macao Students in Dongguan
Updated on October 16, 2023 (Mon)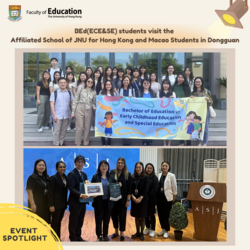 19 students from the Bachelor of Education in Early Childhood Education and Special Education [BEd(ECE&SE)] programme participated in a visit to the Affiliated School of Jinan University for Hong Kong and Macao Students (ASJ) in Dongguan on October 16, 2023. The primary objectives of the visit were to facilitate collaborative learning opportunities and exchange experiences in teaching and learning. The group, comprising Year 3 to Year 5 students, gained a deeper understanding of the pedagogy and education system in the Greater Bay Area.
The visit commenced with a warm welcome by Mr Jonathan Lai, Chief Principal, and Ms Hina Patel, IB Principal of ASJ Dongguan. The students were then guided on a campus tour which enabled them to have first-hand observations of various classroom activities. These activities offered the students insights into the pedagogy employed by the School.
In addition to classroom observations, the visit also featured principals from neighbouring Dongguan kindergartens, who were invited to share comprehensive overviews of their respective education programmes. The sharing session provided a platform for participants to exchange best practices in the field of early childhood education, fostering a rich and enlightening experience for all involved.
The students and the faculty members who took part in the visit gained fruitful experiences that broadened their horizons in the field of education. Dr Diana Lee, Programme Director of BEd(ECE&SE) expressed her appreciation to ASJ Dongguan for the well-organised arrangements that contributed to the success of the event.
This visit to ASJ Dongguan exemplified the Faculty of Education's commitment to providing students with diverse and enriching learning opportunities. By engaging with educational institutions and professionals, the programme aims to equip future educators with the necessary knowledge, skills, and insights to excel in the field of early childhood and special education.