Dr Kevin Tai receives the RGC Early Career Award 2023/24
Updated on November 02, 2023 (Thu)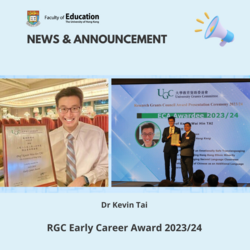 The Research Grants Council (RGC) held an award presentation ceremony on November 2, 2023 to honor 87 academics from the eight University Grants Committee (UGC)-funded universities for their distinguished research accomplishments and significant contributions to the higher education sector. Dr Kevin Tai, Assistant Professor of the Faculty's Academic Unit of Teacher Education and Learning Leadership, has received the Early Career Award 2023/24 in recognition of his achievements in research.

Dr Tai's project, entitled "The Affordance of an Emotionally Safe Translanguaging Space for Supporting Hong Kong Ethnic Minority Students in Managing Second Language Classroom Anxiety: A Study of Chinese as an Additional Language Classrooms," has been granted HKD$898,200 under the RGC Early Career Scheme (ECS) 2023/24 exercise. Among the 187 projects funded by the ECS in 2023/24, seven early-career scholars received the Early Career Awards, and Dr Tai is one of them.

More information can be found in the HKSAR Government Press release:
https://www.info.gov.hk/gia/general/202311/02/P2023110200237.htm

Please join us in congratulating Kevin on his achievement!