ALiTE Featured Resources - Using Classroom Videos to Enhance Teachers' Professional Learning
July 20 - August 31, 2022 (Wed-Wed)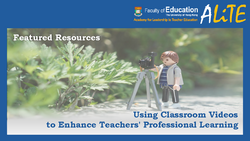 Teacher quality is regarded as one of the most critical factors contributing to student learning (Darling-Hammond, 2000; Hattie, 2012). Accordingly, developing teacher quality is a high-leverage strategy for enhancing student educational achievement. Classroom videos are increasingly used to facilitate teacher professional learning. The use of video is grounded in contemporary approaches for augmenting teacher learning, which highlights the importance of situating teachers' learning opportunities in their day-to-day classroom activities in addition to providing opportunities for teachers to work collaboratively to reflect on their teaching practices. Video is a rich medium that can capture the complexity, immediacy, and simultaneity of classroom interactions without losing authenticity (Sherin, 2004). Video not only allows teachers to freeze or slow down a particular classroom interaction for fine-grained analysis and reflection (Brophy, 2004) but also provides a springboard for teachers' collective discussion and reflection (Borko et al., 2008).
While video-based teacher learning is promising, it also presents some challenges. Teachers can easily become distracted by irrelevant information during video viewing (Erickson, 2007). They also exhibit some tendency to use evaluative discourse rather than forming evidence-based interpretations when discussing videotaped teaching episodes (Nemirovsky et al., 2005; Sherin & van Es, 2009). Hence, video-embedded teacher professional learning activities need to be carefully designed. At a macro level, design decisions include: (1) identifying worthy teacher learning goals; (2) choosing an instructional approach; (3) designing video-embedded activities; (4) addressing the limitations of videos; (5) aligning assessments with instructional goals (Blomberg et al., 2013; Kang & van Es, 2019).
---
The Academy for Leadership in Teacher Education (ALiTE) has curated a list of resources for educators, researchers and the general public who are interested in education-related information and tools, including school examples, internet resources and scholarly contributions. Topic for July is "Using Classroom Videos to Enhance Teachers' Professional Learning". Check out the curated resources at https://www.alite.edu.hku.hk/post/using-classroom-videos-to-enhance-teachers-professional-learning and remember to bookmark it!
#hkueducation #teachersofig #teachereducation #ALiTE #classroomvideos #professionallearning