Programme Overview and Aims

MSc(ITE) is a recognized programme under the area
Learning, Teaching and Pedagogy for
The Education Bureau (EDB) has launched a scheme called the Scholarship for Teachers (Pursuit of Master's Degree Programmes) for the 2020/21 school year. The Scholarship for Teachers aims to celebrate achievements of high-performing teachers and to encourage teachers' pursuit of higher qualifications as well as to enhance their professionalism. It is offered to selected full-time serving teachers who will pursue part-time studies in MSc(ITE) in the 2020/21 school year.

The Scholarship is open for application from 18 May to 12 June 2020. For details, please visit EDB website at: https://www.edb.gov.hk/en/teacher/qualification-training-development/training/scholarship-for-teacher-master/index.html.
Information Technology in Education is a multi-faceted field of study which combines learning theories, instructional design principles, learning technology, research methods, and pedagogical strategies. This programme aims to train individuals who are interested to work as instructional designers, e-learning specialists, adult educators or information technology coordinators in organisations or school contexts.
Aims
Business organisations (such as multimedia publishers, banks, and corporate training centres), universities, and schools are frequently in need of skilled professionals in applications of information technology in educational and training contexts. This programme offers participants theoretical and practical insights in the application of instructional design principles and information technology tools for learning and instruction.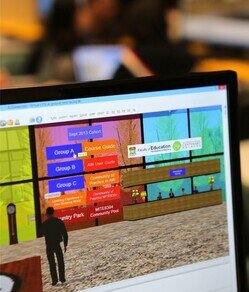 The programme aims to provide
An investigation into learning technology design, e-leadership, e-learning, and other emerging learning and teaching technology applications
An opportunity to apply technology in learning and teaching
An investigation into adult learning principles and strategies
An exploration of the cultural, administrative, theoretical and practical implications of technology in education
An introduction to research in technology for education
An opportunity for those wishing to develop leadership capabilities in the use of technology in education
Who should apply
We aim to enhance human learning and performance in various training or educational settings through the use of instructional design principles, and information technology tools.
This programme is particularly suitable for:
Instructional designers, digital video producers, publishers, software developers, and multimedia designers who are interested in learning pedagogy.
Professionals involved in staff development and corporate training
School teachers and other education professionals with strong interest in using information technology for learning and instruction
School administrators and technology coordinators
Any other professional with an interest in expanding their education background, practice and knowledge of technology applications for learning and instruction
Mode of study
The programme
can be completed in one academic year of full-time study or two but no more than four consecutive academic years of part-time study
requires students to take a total of 10 courses in their studies. Over enrollment is not allowed. Full-time students should take no more than four courses in a term, while part-time students should not take more than 2 courses in a term.
is conducted in a face-to-face mode supplemented by online learning (e-learning)
offers courses across three terms in a year
schedules classes normally on weekdays from 6:30 p.m. to 9:30 p.m. and on Saturday mornings and afternoons at HKU campus. Some day-time classes will be held on weekdays.*
* Subject to change without further notice
Candidates with a full-time job should apply for the part-time mode.