Programme Overview and Aims

The Faculty of Education has longstanding experience in educating professionals and is a leader in the provision of education in the field of information and technology studies. We offer a full-time Bachelor of Science in Information Management (BSC(IM)) programme, which is a UGC-funded programme. The programme is professionally accredited by the Chartered Institute of Library and Information Professionals (CILIP), UK. This programme, which builds on the strength and expertise in the information management area in the Faculty, targets the fastest growing sector of the modern economy, namely the information sector.
The courses are mainly taught by members of the Division of I&TS of the Faculty which is a member of the iSchools. We are recognized as the information professional who possesses the expertise of understanding of the users and users of information, the nature of information itself, as well as information technologies and their applications. We are the only institution in HK joined the iSchools along with other top-tier members such as University College London, University of California-Berkeley, Carnegie Mellon University, Cornell University, University of Illinois at Urbana-Champaign and University of Toronto.
There are many industry experts participate in our programme as advisors, co-lecturers, and guest speakers. Influential organizations in Hong Kong are hosts for our internship programme. Students interested in further studies after graduation may be able to continue in the Faculty's Master of Science in Library and Information Management (MSc[LIM]) programme or Master of Science in Information Technology in Education (MSc[ITE]) programme.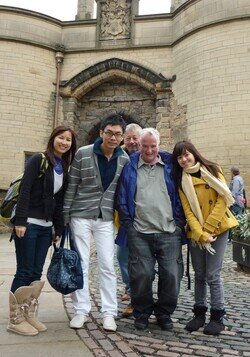 Programme Features
The programme is full-time with a flexible structure, allowing students to explore a range of topics in information management, such as information resources and services, information organization and retrieval, digital library, information and communication technology, knowledge management, sociology of information, and information policy and ethics.
Innovative teaching methods help students enhance career possibilities by building knowledge of the latest developments in information-related industries. A web-based course system enables students to access course materials, announcements and resources. Electronic activities that capitalize on the latest technology are used to enrich the learning experience, knowledge sharing and community building among students. Summer internship, exchange studies and projects are provided to broaden students' view and enable knowledge application in real world situations.
Summer Internship
Students will also engage in a summer internship in an overseas or a local organization for up to 3 months. Our industry partners include National Taiwan Normal University (Taiwan), the Hospital Authority, Latham and Watkins, Pearson, Ralph Lauren and Deacons.
Exchange Studies
To foster an international understanding for students, the programme encourages students to study overseas in well-established universities for academic exchange.
Assessment
Students are assessed in a variety of ways, including learning portfolios, research papers, group projects, practical exercises, and presentations.
Final Year Project (FYP)
Students would have chances to do a Final Year Project (FYP). All BSc(IM) students will have chances to present their Final Year Projects to supervisors, peers and guests from the industry and academia at the FYP Presentation Day. Some FYPs have been presented at international and local conferences such as the International Conference on Knowledge, Culture and Change in Organizations in Singapore, International Association of Music Libraries in Sydney, ED-MEDIA, World Conference on Educational Multimedia in Vancouver, International Association of School Librarianship Annual Conference in Taipei, IT in Education Symposium in Hong Kong.
Below are some outstanding Final Year Project Posters: