Programme Overview and Aims
BED&BSC has been jointly offered by the Faculty of Education and Faculty of Science since 2012. This 5-year double degree integrates specialist studies in science and professional training in science education. Students will take science introductory and advanced courses from selected Science majors from the Faculty of Science and Education Professional Core courses from the Faculty of Education. The programme offers students ample opportunities to acquire and consolidate their scientific knowledge through practical experience and teaching in science. The programme combines rigorous academic study with experiential learning and practical application. Graduates of the BED&BSC are fully qualified to teach science in secondary schools, both locally and internationally.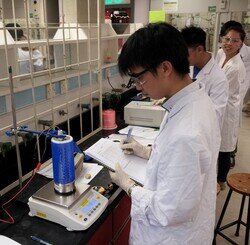 Programme Features
Students will develop expertise in teaching science or science-related subjects and reflect critically upon contemporary issues in both science and education.
The programme offers two degrees in one. It is equivalent to a BSc plus a Postgraduate Diploma in Education, a professional teaching qualification recognized in Hong Kong schools and internationally. Students will pursue their interest in science from a broad range of Science majors and develop personal strengths and professional commitment to education.
Students may also take a range of elective courses within the Faculty of Education or in other Faculties, and may combine elective courses to declare a minor subject.