Programme Overview and Aims
Enquiries Information
Application & Admissions
Contact: Faculty of Education
[javascript protected email address]
Programme & Curriculum
Contact: Dr Lilian Chau (Programme Director)
[javascript protected email address]
Programme Pamphlet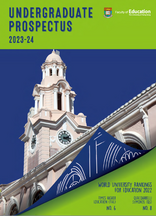 View and download
The BSc (Applied Child Development) programme provides students with a strong foundation in the knowledge, skills and attitude required for working with a wide diversity of children and families. Students will gain insights into the theories of child development and acquire deep understanding of the interrelationships among theory, research, practice and policy. This multi-disciplinary programme prepares students for further studies and careers in the fields of early childhood education and related areas, and offers students opportunities for field experience and supervised research.
Powerpoint file for admissions talk
(HKU Information Day 2022 for Undergraduate Admissions)
Programme Features
Independent Project
Students complete an independent research project under the supervision of a Faculty mentor in a self-selected area of interest.
Field experience
Field experience provides students with the opportunity to apply and integrate the knowledge gained from coursework to research and practice. Field experience sites include schools, laboratories, research organizations, non-profit organizations and other professional settings. The Faculty also offers students opportunities to collaborate with staff members on research projects.