Dr Timothy Hew and Professor David Carless ranked in the top 1% by citations
Updated on November 25, 2022 (Fri)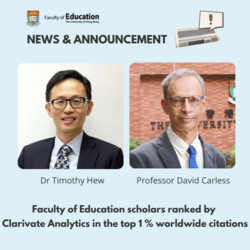 We are so proud to announce that Dr Timothy Hew, Associate Dean (Research Higher Degrees) of the Faculty and Professor David Carless from the Faculty's Academic Unit of Social Contexts and Policies of Education are both ranked by Clarivate Analytics in the top 1% worldwide citations in at least one of the 22 research fields.
The data source is Essential Science Indicators (ESI), which reveals influential individuals, institutions, papers, journals and countries in various research fields, with science trend statistics drawn from more than 12 million articles from over 12,000 journals all over the world. ESI is based on a 10-year rolling file and the latest source covers a 10-year and 4-month period from January 1, 2012 to April 30, 2022.
Citation counts are regarded as a way of peer recognition which generally reflect the dependence of the scientific community on the work of individual researchers.
Please join us in congratulating Dr Hew and Professor Carless on their exceptional achievement in research performance!