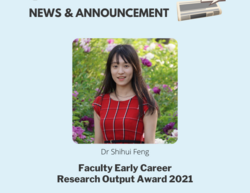 We are pleased to announce that Dr Shihui Feng, Assistant Professor, Academic Unit of Human Communication, Development, and Information Sciences was awarded this year's Faculty Early Career Research Output Award.
Her publication is titled Mixing Patterns in Interdisciplinary Co-Authorship Networks at Multiple Scales, co-written with Alec Kirkley.
The award accords recognition to and honours the publication or creation of outstanding research output by early career researchers. Assistant Professors, Research Assistant Professors and Post-doctoral Fellows are eligible for the award.
Many congratulations to Dr Feng!