Our student is the 1st runner-up of the AI Future Tense: Pitching InnoTech Solutions competition
Updated on November 05, 2021 (Fri)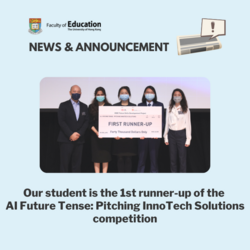 We are pleased to share with you that Chan Lee Yan, Jodie, our Bachelor of Science in Speech and Hearing Sciences student, has won 1st runner-up of the AI Future Tense: Pitching InnoTech Solutions competition, together with her team members from the Faculties of Business and Economics, Engineering, Law and Science. The competition is organised by the Hong Kong Federation of Youth Groups under the HSBC Future Skills Development Project.

The original project idea was one of the winners of the 2020-2021 InnoSpark pitching competition organised by the Innovation Academy of the HKU Faculty of Engineering. To carry forward the meaningful effort, the project team joined the Pitching InnoTech Solutions competition, and they proposed the development of an innovative new app called "Vera" to help with speech therapy. Vera is a developing AI-powered mobile application that utilises machine learning and big data to provide initial diagnosis for children in Hong Kong suspected of having speech sound disorders, as well as articulation exercises for children that require speech therapy through interactive games. Through the mobile application, Vera hopes to encourage early diagnosis and intervention for children with speech sound disorders, and improve the quality of speech therapy.

The competition encourages tertiary students to generate innotech solution to tackle social issues. After submitting a proposal to introduce their project ideas, ten shortlisted teams will enter the final and pitch their project to industry professionals. Outstanding teams will receive cash rewards to execute their projects.

The team is advised by Dr William Choi, Assistant Professor in the Faculty's Academic Unit of Human Communication, Development, and Information Sciences, and Dr John Yuen, Assistant Professor, Department of Computer Science, Faculty of Engineering, The University of Hong Kong.

Congratulations and keep up the good work!