Dr. Rachel Zorman & Ms. Nurit Aharoni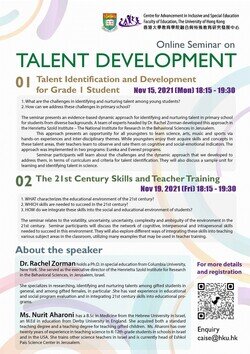 Talent Identification and Development for Grade 1 Students
Dr. Rachel Zorman, Executive Director, The Henrietta Szold Institute, Israeli
Ms. Nurit Aharoni, National Supervisor for Science Teaching in the Everest and Eureka programs for talent development, Israel

Date: November 15, 2021 (Monday)
Time: 18:15 – 19:30 (HK Time)
Mode: ZOOM Webinar

Abstract:
The seminar addresses two questions:
1. What are the challenges in identifying and nurturing talent among young students?
2. How can we address these challenges in primary school?

The seminar presents an evidence-based dynamic approach for identifying and nurturing talent in primary school for students from diverse backgrounds. A team of experts headed by Dr. Rachel Zorman developed this approach in the Henrietta Szold Institute – The National Institute for Research in the Behavioral Sciences in Jerusalem.

This approach presents an opportunity for all youngsters to learn science, arts, music and sports via hands-on experiences and inter-disciplinary themes. While youngsters enjoy their acquire skills and concepts in these talent areas, their teachers learn to observe and rate them on cognitive and social-emotional indicators. The approach was implemented in two programs: Eureka and Everest programs.
Seminar participants will learn about the challenges and the dynamic approach that we developed to address them, in terms of curriculum and criteria for talent identification. They will also discuss a sample unit for learning and identifying talent in science.

About the Speakers:
Dr. Rachel Zorman holds a Ph.D. in special education from Columbia University, New York. She served as the executive director of the Henrietta Szold Institute for Research in the Behavioral Sciences, in Jerusalem, Israel.
She specializes in researching, identifying and nurturing talents among gifted students in general, and among gifted females, in particular .She has vast experience in educational and social program evaluation and in integrating 21st century skills into educational programs.
Dr. Zorman taught courses in gifted education and educational research and assessment at Stanford and San Jose universities in the USA, and Tel-Aviv and Ben-Gurion Universities in Israel.
She designed the Eureka and Everest programs, nurturing STEM, sports and artistic talents among elementary school students from diverse populations. She also leads the National Mentoring Program for highly gifted high school students with the Ministry of Education.
Her work is presented in articles, books and international workshops and conferences.
Ms. Nurit Aharoni has a BSc in Medicine from the Hebrew University in Israel, an M.Ed in education from Derby University in England. She acquired both a standard teaching degree and a teaching degree for teaching gifted children.

Ms. Nurit Aharoni has over twenty years of experience in teaching science to K-12th grade students in schools in Israel and in the USA. She trains other science teachers in Israel and is currently head of Eshkol Pais Science Center in Jerusalem.
She specializes in identifying and nurturing gifted and talented students in science. She taught courses in the Eureka and Everest programs, training science teachers how to identify and nurture gifted students in science and technology.

~All are welcome~