Save the Dates: ALiTE International Webinar Series for Exemplary Scholarship (2021-22)
Professor Jonathan Plucker
Dr Ng Pak Tee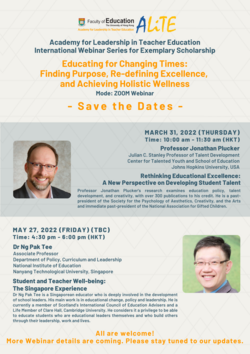 We are pleased to announce the details of this year's Academy for Leadership in Teacher Education (ALiTE) International Webinar Series for Exemplary Scholarship. Our theme for this year is "Educating for Changing Times: Finding Purpose, Re-defining Excellence, and Achieving Holistic Wellness". Prominent scholars from across the globe will share their valuable insights with us in 2021-22.
March 31, 2022 (Thursday)
Time: 10:00 am – 11:30 am (HKT)
Topic: Rethinking Educational Excellence: New Perspectives on Developing Student Talent
Speaker:
Professor Jonathan Plucker
Julian C. Stanley Professor of Talent Development
Center for Talented Youth and School of Education
Johns Hopkins University
USA
May 27, 2022 (Friday) (TBC)
Time: 4:30 pm – 6:00 pm (HKT)
Topic: Student and Teacher Well-being: The Singapore Experience
Speaker:
Dr Ng Pak Tee
Associate Professor
Department of Policy, Curriculum and Leadership
National Institute of Education
Nanyang Technological University
Singapore
Please save the dates and stay tuned for further details!