Left Menu
Our Research
Research at the Faculty of Education informs theory, pedagogy/practice and policy. All academic staff are engaged in research; and this engagement is recognised in the Faculty's stated aim to serve as an educational/research 'nexus' between China, Asia and the rest of the world. As a large, unitary Faculty, our research is described as interdisciplinary but with a strong basis in academic disciplines allied with education, pedagogy, professional development, and speech/hearing sciences. Research is organised via: Divisions; within our 7 Research Centres and 2 Consortia; and as an individual focus. In addition, the Faculty hosts the Education Policy Unit. The Laboratory of Neuroscience for Education is an interdisciplinary unit that crosscuts the traditional boundaries among education, cognitive neuroscience, and other scientific disciplines. At any point in time there are a large number of on-going funded research projects, seminar series, international visitors and distinguished lectures. As researchers, we are actively engaged in local, regional and international collaborations. We maintain an active programme of funded/self-funded research studentships within our MPhil/PhD and EdD programmes.
---
Research News
Dec 12 2016
>
Dr Susan Bridges' Project receives an international award on innovative education MoreClose
An international team, led by Dr Susan Bridges of the Faculty of Education and the Centre for the Enhancement of Teaching and Learning with a project entitled "Problem-based learning and Educational Technologies in Clinical Education – An Interactional Ethnography", won the bronze prize in the international "Reimagine Education Awards 2016" under the category of Regional Awards (Asia) (see the official winner e-badge below).
The organisers, ranking publisher Quacquarelli Symonds (QS) and the Wharton School at the University of Pennsylvania, USA, received over 500 entries for this contest. Shortlisted candidates from around the world gathered in Philadelphia, USA on December 5 to 6, 2016 to showcase their projects for innovative higher education pedagogies.
The winning project is cross-institutional and international. The pedagogy features heightened technological interactivity during face-to-face problem-based tutorials through the use of mobile devices and the Internet, which created just-in-time and rich learning resources for all participants. Through the careful study of peer-to-peer and peer-to-facilitator conversations, collaboration and the use of learning tools, the winning team has contributed valuable qualitative data to the field of problem-based learning research.
To learn more about the project, please see the video at https://youtu.be/xcoDMxUnG8U.
Please also see the related press release at:
http://hku.hk/press/news_detail_15681.html (English Version)
http://hku.hk/press/c_news_detail_15681.html (Chinese Version)
Many congratulations to Dr Bridges and her team!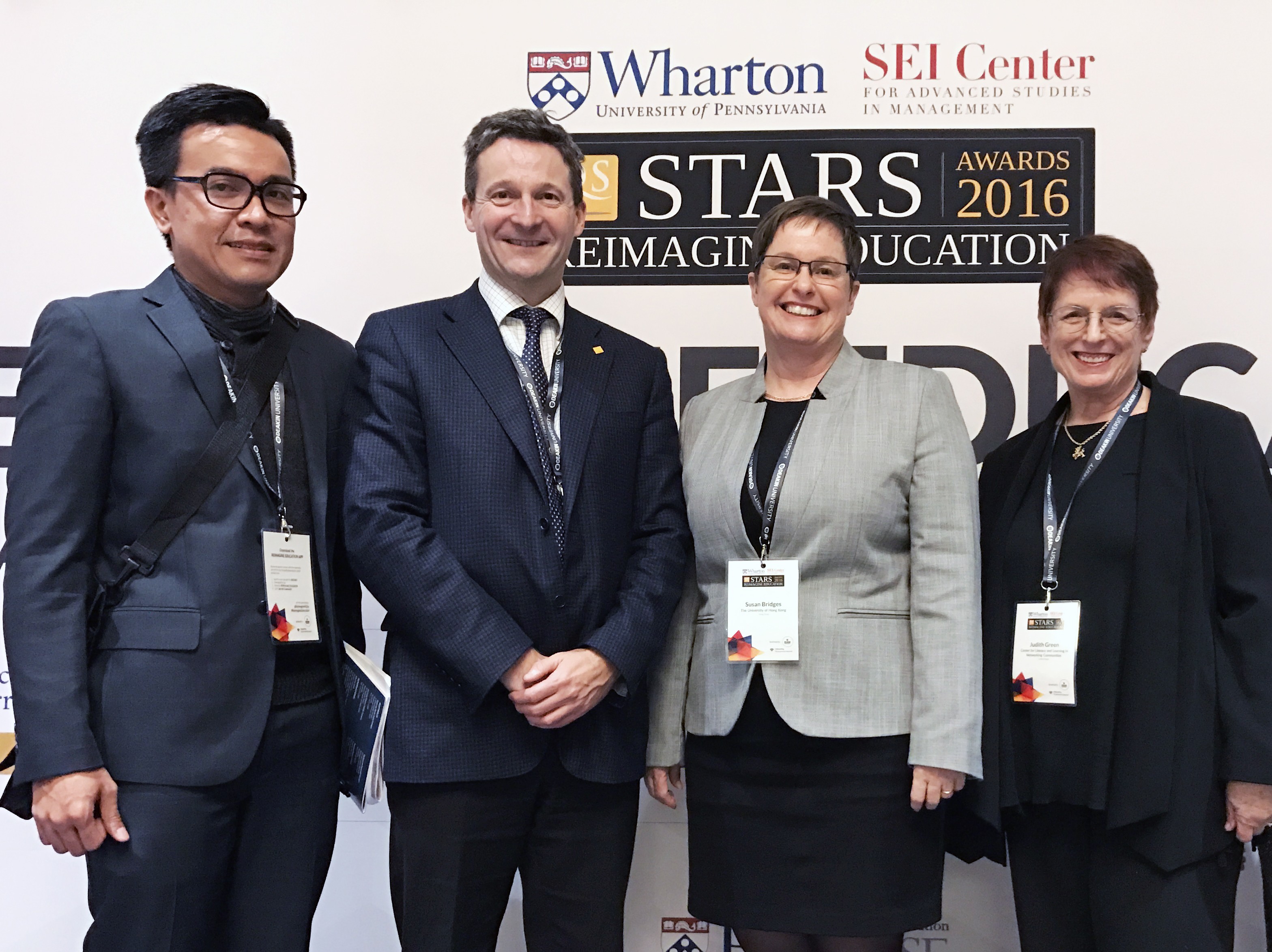 From left to right: Dr Fraide A. Ganotice, Jr. (Faculty of Medicine, HKU), Mr Nunzio Quacquarelli (CEO and founder of Quacquarelli Symonds Ltd.), Dr Susan Bridges (Faculty of Education, HKU), Professor Judith Green (University of California, Santa Barbara; collaborator)
The 2016 QS Wharton winning team (Principal Investigator: Dr Susan Bridges) getting together in Hong Kong during Professor Green's visit to the Faculty on May 12 - June 15, 2017 under the Teaching Exchange Fellowship Scheme.
​
Reimagine Education Official Winner e-Badge: Regional Awards - Asia Bronze Award
Dec 5 2016
>
Research Output Prize for Education 2016 MoreClose
We are very pleased to announce that Professor David Carless has been selected for the Research Output Prize this year, resulting from his excellent 270 page publication entitled:
"Excellence in University Assessment: Learning from award-winning practice" published by Routledge in 2015.
This faculty-based award accords recognition to an author (or team of authors) of a single research output item published or created in the preceding calendar year.
Congratulations to Professor Carless!
Oct 28 2016
>
Dr Gary Wong received an award for an Outstanding Journal Article Published in the International Review of Education Technology Research and Development MoreClose
Dr Gary Wong received an Outstanding Journal Article award for an article published in the International Review of Education Technology Research and Development (ETR&D) this year. The article "The Behavioral Intentions of Hong Kong Primary Teachers in Adopting Educational Technology" was published in volume 64 of the journal early this year. For details of the article, please see http://link.springer.com/article/10.1007/s11423-016-9426-9.
The award was created by the Association for Educational Communications and Technology (AECT) and is given in recognition of a researcher's achievement where their fundamental discoveries, new theories, or insights have had a significant impact on the field of educational communications and technology in an international setting and who are expected to continue to produce cutting-edge achievements in the future. The committee was impressed with Dr Wong's contribution and effort in working with in-service teachers in Hong Kong.
Dr Wong received the award at the International Division Award Dinner of the 2016 AECT International Convention on October 19, 2016 at the Westgate Resort and Casino, Las Vegas, Nevada, at a gathering of about 200 academics.
Congratulations to Dr Wong!
For details, please visit the following websites:
About ETR&D: http://link.springer.com/journal/11423
About AECT: http://aect.site-ym.com/
About 2016 AECT International Convention: http://www.aect.org/events/Las%20Vegas/
TOP