Programme Overview and Aims

Application for PGDE 2014 intake has closed. Updated information for the 2015 intake will be available from mid-December 2014.
The Postgraduate Diploma in Education (PGDE) programme prepares university graduates to teach in Hong Kong in sectors ranging from kindergarten to tertiary institutions. The PGDE programme is also relevant to teachers teaching in training institutions, community colleges and international schools. PGDE is a recognized teacher training qualification by the Education Bureau of the HKSAR Government.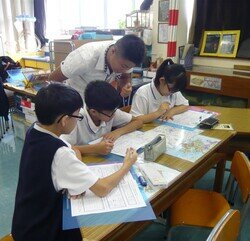 Full-Time (one year)
The full-time programme is primarily intended for graduates without formal teaching experience.
The programme runs throughout the academic year from September to June. It emphasizes methods and practices of teaching and the theoretical aspects of education. Course participants will be given the opportunity to gain practical teaching experience in Hong Kong schools in the first semester and to undertake further teaching practice in the second semester under the guidance of a university teacher and school mentor.
Students may be required to join evening classes or Saturday classes for some courses.
Part-Time (two years)
The part-time programme is primarily designed for students who are serving teachers normally with at least one year of relevant teaching experience. It covers the methods and practices of teaching and the same theoretical aspects of study as the full-time programme.
The programme extends over two academic years of part-time study. Classes are normally held from 6:00 to 8:30 p.m. or 6:30 to 9:00 p.m. on two evenings per week in Year 1 and one evening per week in Year 2, and run through each academic year from September to June. However, some Major Methods tutors may schedule classes on Saturdays.
Intending candidates should seek prior approval from their principals or employers to ensure that they are willing to release you to attend classes punctually.