Our students participated in the Odyssey of the Mind (OM) Virtual US World Finals
Updated on June 16, 2021 (Wed)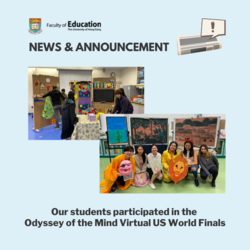 We are pleased to announce that 12 students from our Faculty and the Faculty of Social Sciences have performed well in the OM regional tournament and the subsequent Virtual US World Finals.
The students took the course entitled "Fostering 4Cs (Creativity, Complex Problem-Solving Skills, Communication and Collaboration skills) through Engaging STEM/STEAM-related Activities", which is a Gallant Ho Funded Experiential Learning (EL) Course since 2019, coordinated by Ms Promail Leung, Director of the School-University Partnerships Office and Senior Lecturer of the Faculty's Academic Unit of Teacher Education and Learning Leadership. It aims to enhance interdisciplinary HKU students' STEM literacy and 21st century skills by offering innovative solutions to the OM Long Term problems in an international competition setting.
The 12 students formed two teams to join the virtual OM competition. They first won the OM regional tournament championship in April 2021 and were qualified to represent Hong Kong to compete in Division IV of the Virtual US World Finals in May 2021. One of the teams had won 4th place in Problem 2 (Virtual Odyssey), and another team won 3rd place in Problem 3 (OMER and the Beanstalk) in the World Finals. The teams' performances can be watched at https://youtu.be/thUl0sfp_j0 and https://youtu.be/iy1S9YKtBII respectively.
The OM has been the world's greatest creative problem-solving programme since its beginning in 1978. It has grown into a world-wide programme that has reached multiple generations, allowing students to learn, develop and employ skills related to teamwork, resource management, designing and making, divergent thinking and so on. It provides students with a place to learn today's creative problem-solving skills while having fun. For more details of this year's competition, please visit https://omworldfinals.com/virtual/.
Congratulations to our students!