Knowledge Exchange Workshop on "Nurturing a Healthy Voice with Your Children"
Updated on April 04, 2022 (Mon)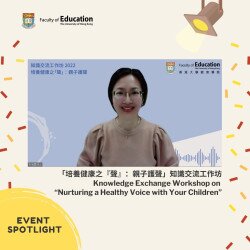 The Faculty successfully organised the Knowledge Exchange workshop entitled "Nurturing a Healthy Voice with Your Children" on March 26, 2022 via ZOOM Webinar. The workshop was delivered by Dr Estella Ma, Director of the Voice Research Laboratory and an Associate Professor of the Faculty's Academic Unit of Human Communication, Development, and Information Sciences. The workshop received an enthusiastic response from the public, and was well attended by more than 270 participants, including parents, teachers, counsellors and students.
At the workshop, Dr Ma explained the possible causes and symptoms of children's voice issues and gave practical tips on voice care. Dr Ma also demonstrated some simple and interesting parent-child games, and shared resources with the audience to help children produce a healthy voice.
Participants enthusiastically raised questions to Dr Ma during the Q&A session. Many of them found the workshop interesting and practical, and most of them would like to join similar workshops organised by the Faculty in the future.
The recording and presentation slides are now available on our website: https://web.edu.hku.hk/event/detail-page/keworkshop-voicecare.