Knowledge Exchange Workshop on "Strengths and Weaknesses of Autistic Children's Language Communication"
Updated on July 08, 2021 (Thu)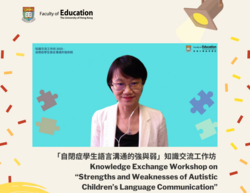 The Faculty successfully organised the Knowledge Exchange workshop entitled "Strengths and Weaknesses of Autistic Children's Language Communication" on June 26, 2021 via ZOOM Webinar. The workshop was delivered by Dr Carol To, Associate Professor of the Faculty's Academic Unit of Human Communication, Development, and Information Science. The workshop received enthusiastic response, and was well attended by more than 430 participants including parents, teachers, speech therapists, social workers, counsellors and students.
At the workshop, Dr To used many examples to demonstrate the weakness and strengths of autistic children and gave practical advice to the participants on how to improve the learning and performance of these children. The participants also raised many questions and enthusiastically interacted with Dr To in the Q&A session.
Many participants found that the speaker was well prepared for the workshop, and her presentation was very clear and interesting. They also commented that the workshop was very informative and practical, and would like to join similar workshops organised by the Faculty in the future.
The recording and presentation slides are now available on our website: https://web.edu.hku.hk/event/detail-page/keworkshop-autism.