HKU Study Reveals Widened Digital Competence Divide during COVID-19 Period Affecting not only Academic Learning but also Students' Wellbeing
Updated on May 03, 2022 (Tue)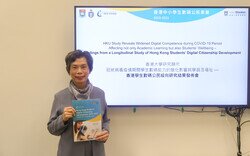 A virtual press conference on the Learning and Assessing in Digital Citizenship Project ("eCitizen") study was held on May 3, 2022.
The findings show that although the general digital competence of students have improved, students' digital competence gap within and across schools have increased significantly. The study also revealed significant increases in the percentage of students reporting serious mental health and internet addiction conditions in all three age cohorts studied: primary, lower secondary and upper secondary.
The project team and partners also put forward several recommendations for different stakeholders and called for concerted efforts to address the wellness challenges and the learning divides uncovered through this research.
This project is funded by the Research Grants Council under the Theme-based Research Scheme. It is conducted by an interdisciplinary research team and led by Professor Nancy Law, Deputy Director, Centre for Information Technology in Education of our Faculty. The research team comprises prominent researchers from HKU and the Hong Kong University of Science and Technology and international experts, from the fields of Education, Learning Sciences and Learning Technology, Computer Science and Engineering, Social Science, Arts, Journalism, Paediatrics and Adolescent Medicine.
For more details of the "eCitizen" Project, please visit https://www.ecitizen.hk. To review the e-version of the press release and download relevant materials, please visit http://web.edu.hku.hk/press.