Left Menu
Uncovering the Past: A Report on the 2019 HKU Archaeological Expedition to Armenia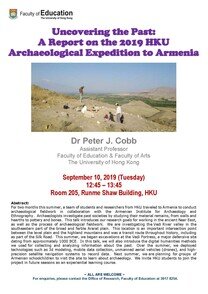 | | |
| --- | --- |
| Date | September 10, 2019 |
| Time | 12:45 - 13:45 |
| Speaker | Dr Peter J. Cobb |
| Venue | Room 205, Runme Shaw Building, HKU |
| Media | |
---
Uncovering the Past: A Report on the 2019 HKU Archaeological Expedition to Armenia

Dr Peter J. Cobb
Assistant Professor
Faculty of Education & Faculty of Arts
The University of Hong Kong

September 10, 2019 (Tuesday)
12:45 – 13:45
Room 205, Runme Shaw Building, HKU

Abstract:
For two months this summer, a team of students and researchers from HKU traveled to Armenia to conduct archaeological fieldwork in collaboration with the Armenian Institute for Archaeology and Ethnography. Archaeologists investigate past societies by studying their material remains, from walls and hearths to pottery and bones. This talk introduces our research goals for working in the ancient Near East, as well as the process of archaeological fieldwork. We are investigating the Vedi River valley in the southeastern part of the broad and fertile Ararat plain. This location is an important intersection point between the level plain and the highland mountains and was a transit route throughout history, including as part of the Silk Road. This summer, we began excavations at the Vedi Fortress, a major defensive site dating from approximately 1000 BCE. In this talk, we will also introduce the digital humanities methods we used for collecting and analyzing information about the past. Over the summer, we deployed technologies such as 3d modeling, mobile data collection, unmanned aerial vehicles (drones), and high-precision satellite navigation systems to record data. Next summer, we are planning for groups of Armenian schoolchildren to visit the site to learn about archaeology. We invite HKU students to join the project in future seasons as an experiential learning course.

~ ALL ARE WELCOME ~
For enquiries, please contact the Office of Research, Faculty of Education at 3917 8254.



TOP