Master of Education (MEd) Information Sessions for 2024 Intake
November 23 - December 20, 2023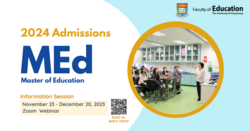 The Master of Education (MEd) is an academic degree for education professionals who are looking for opportunities to extend their professional knowledge in education. It aims to provide students with a general understanding of education as a field of study and focused mastery of an area of specialisation, and to equip them with knowledge and skills to understand educational research. MEd graduates from the University of Hong Kong are actively involved in school administration, policy development, adult and vocational training, teacher education, curriculum development, classroom teaching, educational assessment and evaluation, and educational research both in Hong Kong and abroad.
The following specialisms are offered for 2024 intake:
Generalist Strand (GS) (FT & PT)

Specialist Strand
Chinese Language Education (CLE) (FT & PT)

Comparative and Global Studies in Education and Development (CGSED) (FT & PT)

Content and Language Integrated Learning (CLIL) (FT & PT)

Curriculum and Pedagogy (CP) (FT & PT)

Early Childhood Education (ECE) (FT & PT)

Educational Administration and Management (EAM) (FT & PT)

English Language Education (ELE) (FT & PT)

Gifted Education and Talent Development (GT) (FT & PT)

Higher Education (HE) (FT & PT)

Psychological Studies in Education (PSE) (FT & PT)

Science Education (SE) (FT & PT)

STEM Education (STEM) (FT & PT)

Teaching Chinese as a Second Language (TCSL)

(FT only)

Teaching Chinese Language and Literature in International Education (TCLL)

(FT only)

Teaching of Science in an International Context (TSIC) (FT & PT)
Some online information sessions for individual specialisms will be held as the following schedule. Please register online and join us.
Specialism
Date
Time
Mode
Registration
Chinese Language Education (CLE)

November 23, 2023

(Thursday)

6:00 PM -

7:00 PM

ZOOM
Register
Teaching Chinese as a Second Language (TCSL)

December 4, 2023

(Monday)

6:30 PM -

7:30 PM

Register
Teaching Chinese Language and Literature in International Education (TCLL)
Curriculum and Pedagogy (CP)

December 4, 2023

(Monday)

7:00 PM -

8:00 PM

Register
Early Childhood Education (ECE)

December 6, 2023

(Wednesday)

6:00 PM - 7:00 PM
Register
Higher Education (HE)

December 11, 2023

(Monday)

6:30 PM - 7:30 PM
Register
Gifted Education and Talent Development (GETD)

December 13, 2023

(Wednesday)

6:00 PM - 7:00 PM
Register
Science Education (SE)

December 13, 2023

(Wednesday)

6:30 PM - 7:30 PM
Register

Comparative and Global Studies in Education and Development (CGSED)

December 19, 2023

(Tuesday)

6:30 PM - 7:30 PM
Register
Educational Administration and Management (EAM)

December 20, 2023

(Wednesday)

6:30 PM - 7:30 PM
Register
Psychological Studies in Education (PSE)

December 20, 2023

(Wednesday)

6:30 PM - 7:30 PM
Register
For details of the programme, please visit the programme website at https://web.edu.hku.hk/programme/med
Enquiries
Tel: (+852) 3917 5712 / (+852) 3917 1951 / (+852) 3917 8044
Email: medu@hku.hk