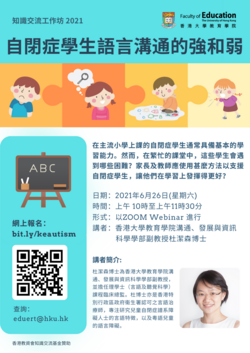 「自閉症學生語言溝通的強與弱」知識交流工作坊KE Workshop on "Strengths and Weaknesses of Autistic Children's Language Communication"
工作坊內容:
在主流小學上課的自閉症學生通常具備基本的學習能力。然而,在繁忙的課堂中,這些學生會遇到哪些困難?家長及教師應使用甚麼方法以支援自閉症學生,讓他們在學習上發揮得更好?
講者簡介:
杜潔森博士為香港大學教育學院溝通、發展與資訊科學學部副教授,並擔任理學士(言語及聽覺科學)課程臨床總監。杜博士亦是香港特別行政區政府衞生署認可之言語治療師,專注研究兒童自閉症譜系障礙人士的言語特徵,以及粵語兒童的語言障礙。
Content to be covered:
Children with autism spectrum disorders usually possess some basic learning skills when they are able to study in mainstream schools. However, what are the difficulties they will encounter in a busy classroom? How can parents and teachers support these students in their studies and help them perform better in class?
About the speaker:
Dr Carol To is an Associate Professor of the Academic Unit of Human Communication, Development, and Information Science at the Faculty of Education at the University of Hong Kong. She is also the Director of Clinical Education of the Bachelor of Science (Speech and Hearing Sciences) programme. Dr To is a registered speech therapist accredited by the Department of Health of the HKSAR Government, specialising in language characteristics of children with autism spectrum disorders and language disorder of Cantonese-speaking children.