Left Menu
Improving Learning through In-depth Understanding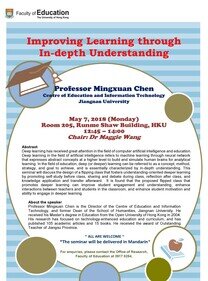 | | |
| --- | --- |
| Date | May 7, 2018 |
| Time | 12:45 - 14:00 |
| Chair | Dr Maggie Wang |
| Speaker | Professor Mingxuan Chen |
| Venue | Room 205, Runme Shaw Building, HKU |
| Language | The seminar will be delivered in Mandarin |
| Media | |
---
Improving Learning through In-depth Understanding

Professor Mingxuan Chen
Centre of Education and Information Technology
Jiangnan University

May 7, 2018 (Monday)
Room 205, Runme Shaw Building, HKU
12:45 – 14:00
Chair: Dr Maggie Wang
Abstract
Deep learning has received great attention in the field of computer artificial intelligence and education. Deep learning in the field of artificial intelligence refers to machine learning through neural network that expresses abstract concepts at a higher level to build and simulate human brains for analytical learning. In the field of education, deep (or deeper) learning can be referred to as a concept, method, strategy, and goal to achieve, and is essentially characterized by in-depth understanding. This seminar will discuss the design of a flipping class that fosters understanding-oriented deeper learning by promoting self-study before class, sharing and debate during class, reflection after class, and knowledge application and transfer afterward. It is found that the proposed flipped class that promotes deeper learning can improve student engagement and understanding, enhance interactions between teachers and students in the classroom, and enhance student motivation and ability to engage in deeper learning.
About the speaker
Professor Mingxuan Chen is the Director of the Centre of Education and Information Technology, and former Dean of the School of Humanities, Jiangnan University. He received his Master's degree in Education from the Open University of Hong Kong in 2004. His research has focused on technology-enhanced education and curriculum, and has published 105 academic articles and 15 books. He received the award of Outstanding Teacher of Jiangsu Province.
~ ALL ARE WELCOME ~
*The seminar will be delivered in Mandarin*
For enquiries, please contact the Office of Research,
Faculty of Education at 3917 8254.

TOP