Left Menu
Implicit Learning in Individuals with Developmental Language Disorder (DLD)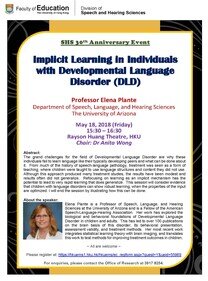 | | |
| --- | --- |
| Date | May 18, 2018 |
| Time | 15:30 - 16:30 |
| Chair | Dr Anita Wong |
| Speaker | Professor Elena Plante |
| Venue | Rayson Huang Theatre, HKU |
| Media | |
Registration
---
SHS 30th Anniversary Event
Implicit Learning in Individuals with Developmental Language Disorder (DLD)

Professor Elena Plante
Department of Speech, Language, and Hearing Sciences
The University of Arizona

May 18, 2018 (Friday)
15:30 – 16:30
Rayson Huang Theatre, HKU
Chair: Dr Anita Wong

Abstract:
The grand challenges for the field of Developmental Language Disorder are why these individuals fail to learn language like their typically developing peers and what can be done about it. From much of the history of speech-language pathology, treatment was seen as a form of teaching, where children were taught to use language structures and content they did not use. Although this approach produced many treatment studies, the results have been modest and results often did not generalize. Refocusing on learning as an implicit mechanism has the potential to lead to very rapid learning that does generalize. This session will consider evidence that children with language disorders can show robust learning, when the properties of the input are optimized. I will end the session by illustrating how this can be done.

About the speaker:
Elena Plante is a Professor of Speech, Language, and Hearing Sciences at the University of Arizona and is a Fellow of the American Speech-Language-Hearing Association. Her work has explored the biological and behavioral foundations of Developmental Language Disorder in children and adults. This has led to over 100 publications on the brain basis of this disorder, its behavioral presentation, assessment validity, and treatment methods. Her most recent work integrates statistical learning theory with brain imaging, and translates this work to test methods for improving treatment outcomes in children.

~ All are welcome ~

Please register at: https://hkuems1.hku.hk/hkuems/ec_regform.aspx?guest=Y&ueid=55969

For enquiries, please contact the Office of Research at 3917 8254.

TOP